Art Artist Artistic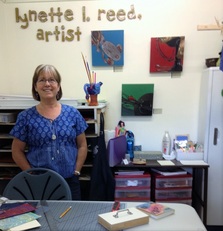 My world of art goes back to my childhood and the influence of my paternal grandmother who was an artist. Family on both sides, if not artists themselves, have always been art appreciators and patrons. Being surrounded by that type of creative thinking and output has given me an appreciation and love of all types of mediums.
In 1980 I received my BFA from the University of North Dakota with an emphasis in painting and printmaking. During that time I was also introduced to the world of fiber arts. Today I am a painter, fiber artist, book artist and marble artist. As you can tell from this website I find myself moving back and forth within these mediums.
In 2013 I joined with two other artists in opening a successful art studio/gallery/retail space called Water Street Studio Writing and Arts, LLC. We recently closed so that we could all pursue new directions in our own art which is why you will now find me back at Libertytown Arts Workshop in Studio 5. It is in Studio 5 that you can find me marbling, making books and cards, creating fiber sculptures, teaching, and sharing my love of art. I hope you find your way to the studio soon!
For purchases and special orders please see contact info below. Thank you.
Contact me:
yarnlyn@aol.com
www.facebook.com/lynette.reed5
libertytownarts.com
instagram.com/yarnlyn
---